"Hurry up, hurry up and make a decision" was the line that kept echoing in my head as my deadline came within sight. It was finally time for me to move out of my beach college town, say goodbye to all of the connections that I had made and make my first steps into corporate America. This is a story that has been told many of times so I won't bore you any further. The point is I craved to do something special before my big move. Luckily, I had a friend named Tanner who was in the same boat as I was and was just as crazy.
After a couple of cold ones on the beach we decided that we wanted to leap into something completely new. Neither of us had ever studied abroad and loved to travel so we came to one conclusion: we wanted to plan the ultimate backpacking trip through Europe. One that would reside in our minds for as long as we resided on earth. Within the next month we bought our plane tickets, our Eurorail passes and roughly discussed which cities we wanted to visit. When the day finally came, I couldn't help but question my own decision to leave America and go to a place that I knew nothing about but I was determined to make the best of my trip so looking back was not an option.
We kicked off our trip in Copenhagen, Denmark and right off the bat I could feel the difference of the world that I had just stepped into. It was cold, the rain wouldn't stop, I had no damn clue where I was and yet I couldn't help but smile because from this point forward everything that I was about to witness was going to feel like the first time. The first big obstacle was going to be getting acclimated to the hostel life. I have never been in a place with so many other people my age who had made the same drastic decision; they were all from various places and all had different reasons for traveling.
Every hostel had a similar set up, upstairs we all shared sleeping areas with many bunk beds and on the main floor we would all gather at night to exchange stories of what we had experienced that day and give one another traveling tips. You would be surprised how much you can learn about a person in one night, especially after a couple of beers, and luckily every hostel had a small bar area. We were all very diverse (athletes, artists, bartenders, etc.) and had different things occurring in our native countries but I would have to say that we were more similar than different. It was like meeting yourself, another version of yourself but from a completely different part of the world which always caught me off guard. The weirdest part was realizing that all of the great people that I was meeting were some that I would never see in my life again. This wasn't easy to accept but social media still helps me to keep up with most of them. The stories that we told and the meals that we shared will not be easily forgotten.
At this point I suppose you might be wondering how the food was. Well, let me tell you it was as amazing as everyone says it is. I am a pretty big advocate of healthy eating yet I did not hold back one bit in any of the countries that we visited. For anyone out there that considers themselves a "foodie" I would think that you would be in heaven. The waffles in Belgium were magical, the bratwurst in Germany were extravagant and the food in Italy…..don't even get me started. There was even a mall in Florence that instead of department stores had various food shops (pizza, spaghetti & meatballs, ravioli, lasagna…you name it and it was there).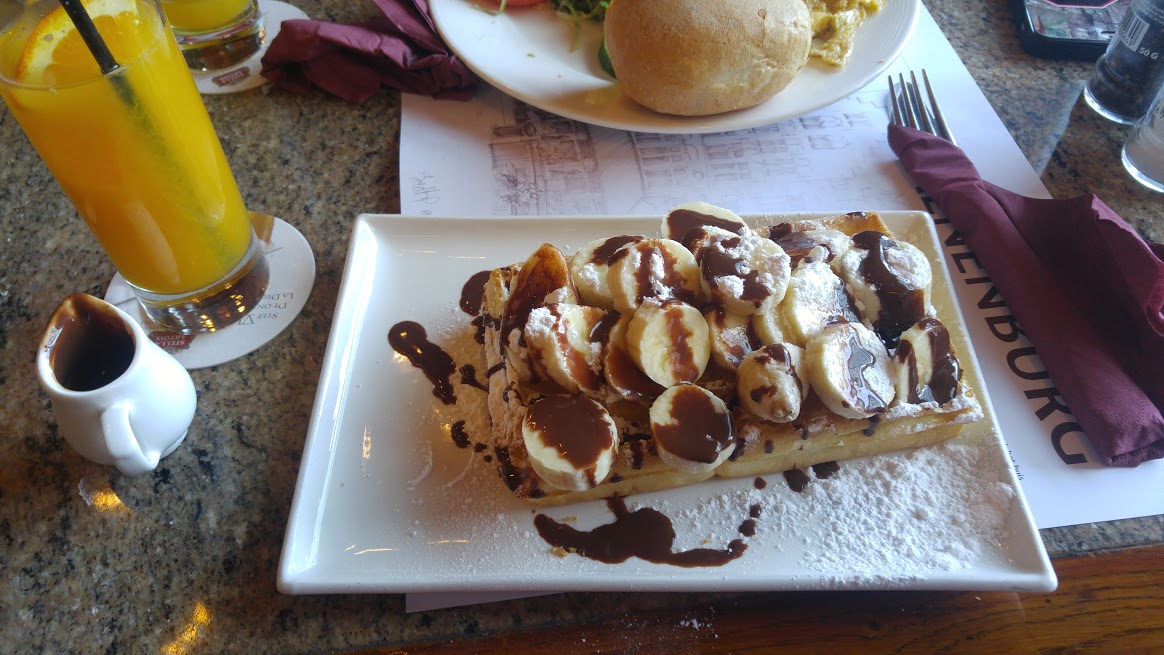 Italy was without a doubt my favorite place for food, while on the other side of the spectrum, France was probably my least favorite due to the fact that one too many French guys kept blowing smoke in my face while I tried to eat. Regardless, the food all around was irreplaceable and the beer was even better. Europeans do enjoy a well-made cold beer and you can easily tell because half of the attractions there are brewery tours. I must have tried over 50 different beers and trust me when I say that I do not regret a single one.
Now, when it comes to alcohol during the day time, it is a great complement to your meal, but at night it is something completely different. If you think that America parties hard then you have clearly not seen how the Europeans do it. Their night life differs from place to place but when it comes to the level of craziness, you can go ahead and put them at the top. For example, Prague has a bar crawl event that happens every night. That's right, 365 days a year you have the opportunity to have an absinthe filled night that ends up in one of Europe's biggest clubs which bumps the best Electronic Dance Music (EDM). Another insane place that I would recommend, not for the faint of heart, would be Amsterdam. It is a place where you can have more fun that you can ever imagine while at the same time can have you questioning reality.
Being from America, especially, makes you completely unprepared for the scenes that you witness at the Red Light District and the Coffee Shops (Bulldog's was my favorite); truly a sight to behold. I will have to say that my greatest night adventure was when Tanner and I innocently went to eat dinner at a burger joint in Genova and ended up discovering way more. We had to bribe the waitress for the password but we managed to gain access into a secret door on the wall that led us downstairs to the classiest (and only) bomb shelter bar that I have ever seen. Truly, it was like a scene from the Great Gatsby which to this day still has me puzzled. These are just some of the night adventures that I can remember and for obvious reasons.
It is hard to recollect everything that Tanner and I saw while being abroad but the things that we will never forget are those of the monuments that we had been told about our whole lives. Yes, we were able to stand on the Amsterdam letters,
walk under the Brandenburg gate as well as admire the Roman Colosseum. It is one thing to learn about these places or see them in the movies but to be able to experience them is something comparing to a dream.
I could sit here and describe every detail of every monument but it wouldn't compare to the joy that you feel from seeing them in person so there's no point of me trying. However, not everything I witnessed in Europe was as expected. As you already know, the various terrorist attacks occurring overseas are changing the cultures of Europe. The pictures that I used to see of people drinking wine under the Eiffel tower were replaced by heavily armed soldiers standing guard beneath it. There were protests at various train stations where we would depart and one night, on our way to Venice, our train was pulled over by soldiers in order to remove Syrian Refugees.
My family in Milan was kind enough to not only house us for a couple of nights but also educate us on the transformation that was taking place. The part that amazed me the most was that even though they told me it was time of fear in Europe, it was also a time of unity in which every country worked together to grow strong and continue their way of life. They told me that they had to be courageous for the next generation and that they were confident that things would get better. I have endless respect for them.
When it comes down to it there isn't one thing that I would change about my European escapade. Sure, I knew that eventually I would have to come back to reality but now that I had taken on the world I knew that I could take on my move. I came back with more memories and experiences than I knew what to do with. Have you climbed the mountains in Salzburg? Yep. Did you get to pray inside the Vatican? Of course. Were you able to relax in the thermal baths of Budapest? Damn straight. I wish that I could share all of my adventures but this short article was hard enough for me as it is. The only thing that would make my trip better would be if I somehow managed to encourage others to take one of their own. I highly recommend that anyone who has a hunger for good shenanigans to save some money, grab some friends and create an adventure that is special to them. The Gopro video is by far my most favorite because it helps me relive my trip to a certain extent. My only regret is that I didn't bring a better camera. Remember folks, an "Oh Well" is a hell of a lot better than a "What if."
Now get out there and live!Peter can be reached at: peter.cordova23@gmail.com
Facebook: https://www.facebook.com/peter.cordova.1401?fref=ts
Instagram: tanman704
To see more videos like the one above, check out his Instagram dedicated just for it: views_from_the_Gopro
More Stories
×
This is something that's always been on my mind, and while I've engaged in conversations with friends of mine about this topic...